---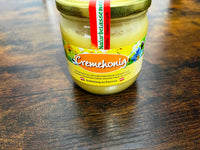 Sale
Special price 7.50 EUR! The Styrian State Association for Beekeeping runs the beekeeping center and a beekeeping school in Graz. The extraction of honey while adhering to the highest quality standards is a central part of beekeeping training.
The cream honey offered here is a foamy, but otherwise natural honey with no additives. The soft, creamy consistency is created by stirring liquid blossom honey for a long time. Using a stirring device (similar to a blender), liquid honey is stirred daily and regularly. Stir and stir and stir and rest again until the color of the honey has become light and white and the consistency has changed to creamy. The beekeeper needs enough time for the creation process of cream honey; under no circumstances should he stop stirring too early. Otherwise, after a short time, the honey will separate in the jar, so that creamy honey will settle at the bottom and liquid honey will float at the top.
Cream honey is a family honey because children also love the creamy consistency and cream honey is unbeatably good as a spread on bread and pastries.
250 g at EUR 5.90 each; Basic price per kilo = EUR 23.60
Manufacturer: Styrian Beekeeping Center, Graz
Free pick-up in the pick-up shop on selected days, please note the opening hours . Address: Welthonig im Rabenhof, Hainburger Straße 68-70/45/1, 1030 Vienna
Customers have the choice between GLS, DPD and postal delivery. See shipping rates for details.
Local delivery in Vienna on the same day for orders with online payment from Monday to Friday by 4 p.m. and Saturday by 12 p.m. Carried out by Veloce Messenger Services GmbH. Later orders will be delivered the next day as soon as possible.
Secure online payment with SSL encryption: PayPal, Mastercard, Visa, American Express and eps transfer.
Offline payment without a card with traditional transfer to the company bank account (payment in advance). After receiving the payment, the goods will be packed and shipped.