---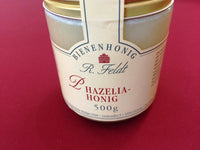 The alternative spelling is "Phacelia". The violet flowering plant is also known as Tufted Beauty, Bee Willow or Beeweed. Its pollen is blue to violet and it is mainly grown as bee food, as a cover crop and as green manure to improve the soil in agriculture. Bees flock to the phacelia flowers and if there is enough supply, the result is sweet, mild and floral phazelia honey.
500 g Phazelia honey from Germany á 13.90 EUR; Basic price 1 kg = 27.80 EUR
Manufacturer: Beekeeping & Bee Products Rüdiger Feldt, Germany
Free pick-up in the pick-up shop on selected days, please note the opening hours . Address: Welthonig im Rabenhof, Hainburger Straße 68-70/45/1, 1030 Vienna
Customers have the choice between GLS, DPD and postal delivery. See shipping rates for details.
Local delivery in Vienna on the same day for orders with online payment from Monday to Friday by 4 p.m. and Saturday by 12 p.m. Carried out by Veloce Messenger Services GmbH. Later orders will be delivered the next day as soon as possible.
Secure online payment with SSL encryption: PayPal, Mastercard, Visa, American Express and eps transfer.
Offline payment without a card with traditional transfer to the company bank account (payment in advance). After receiving the payment, the goods will be packed and shipped.