---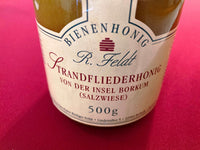 The exposed location of the bees on a North Sea island, the salt marsh flora and the slightly salty honey taste are exceptional in every respect :
common sea lavender

(Limonium vulgare)

depends on flat coasts with strong tides
as a salt plant (halophyte), the distribution area in Germany is limited to salt marshes along the Wadden Sea and on North Sea islands. This honey comes from bees on the island of Borkum (East Friesland).
a rare species of beetle and its brood feed exclusively on sea lavender (lilac shrew weevil)
Tourists love it as an ornamental plant, as a bouquet and in the dried state, and in order to protect it from extinction, it had to be placed under strict species protection according to the Federal Species Protection Ordinance
Sea lavender is not closely related to lilac, the name only refers to the lilac color of the flowers; other names are sea lavender and Hallig lilac
The plants flower quite late in the year, around August to September
The North Sea weather, which is often rough in autumn, with constant wind, makes bee flight more difficult or can even prevent it
Bees placed in salt marshes need dry housing, a suitable location is difficult for a beekeeper to find
500 g á 13.90 EUR; Basic price 1 kg = 27.80 EUR
Manufacturer: Beekeeping & Bee Products Rüdiger Feldt, Germany
Free pick-up in the pick-up shop on selected days, please note the opening hours . Address: Welthonig im Rabenhof, Hainburger Straße 68-70/45/1, 1030 Vienna
Customers have the choice between GLS, DPD and postal delivery. See shipping rates for details.
Local delivery in Vienna on the same day for orders with online payment from Monday to Friday by 4 p.m. and Saturday by 12 p.m. Carried out by Veloce Messenger Services GmbH. Later orders will be delivered the next day as soon as possible.
Secure online payment with SSL encryption: PayPal, Mastercard, Visa, American Express and eps transfer.
Offline payment without a card with traditional transfer to the company bank account (payment in advance). After receiving the payment, the goods will be packed and shipped.