---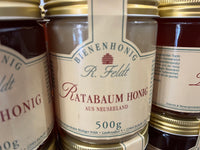 Light, almost white, fine and creamy clover honey from New Zealand . This single-variety honey has two interesting aspects that speak in favor of long-distance transport: Grazing sheep on unfertilized soil are no danger to bees. In other parts of the world, agriculture relies on harvesting with large machines that can massacre bees. In addition, New Zealand manages in large areas without the cultivation of genetically modified forage plants.
Floral and sweet, creamy and delicate, this breakfast honey satisfies even the highest expectations of a discerning palate. Even with butter underneath, it turns every pastry into a heavenly breakfast treat.
500 g á 13.90 EUR; Basic price 1 kg = 27.80 EUR
Manufacturer: Beekeeping & Bee Products Rüdiger Feldt, Germany
Free pick-up in the pick-up shop on selected days, please note the opening hours . Address: Welthonig im Rabenhof, Hainburger Straße 68-70/45/1, 1030 Vienna
Customers have the choice between GLS, DPD and postal delivery. See shipping rates for details.
Local delivery in Vienna on the same day for orders with online payment from Monday to Friday by 4 p.m. and Saturday by 12 p.m. Carried out by Veloce Messenger Services GmbH. Later orders will be delivered the next day as soon as possible.
Secure online payment with SSL encryption: PayPal, Mastercard, Visa, American Express and eps transfer.
Offline payment without a card with traditional transfer to the company bank account (payment in advance). After receiving the payment, the goods will be packed and shipped.