---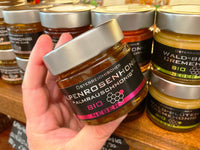 Rarely offered alpine rose organic honey from Austria, also known in this country as alpine rose honey .
This mountain honey comes from around 1,800 m above sea level above the tree line. The apiary is located on the moderately well-known Grilleralm, not far from the municipality of Pusterwald in Styria. Alpine rose honey can only be harvested at high altitudes and is therefore rarely offered. After the snow has melted, the beekeeper has to hike up the mountain with the bees in order to be able to use the short growing season. As early as August, when the first signs of autumn and winter make the climate much harsher, the honey has to be harvested and the bees brought back down to the valley. Working at high altitudes means a lot of effort for the honey bees and the beekeeper with comparatively small harvest quantities.
250 g certified organic alpine rose honey for EUR 9.90; Basic price 1 kg = 39.60 EUR
Manufacturer: Beekeeping Neber, Styria.
Free pick-up in the pick-up shop on selected days, please note the opening hours . Address: Welthonig im Rabenhof, Hainburger Straße 68-70/45/1, 1030 Vienna
Customers have the choice between GLS, DPD and postal delivery. See shipping rates for details.
Local delivery in Vienna on the same day for orders with online payment from Monday to Friday by 4 p.m. and Saturday by 12 p.m. Carried out by Veloce Messenger Services GmbH. Later orders will be delivered the next day as soon as possible.
Secure online payment with SSL encryption: PayPal, Mastercard, Visa, American Express and eps transfer.
Offline payment without a card with traditional transfer to the company bank account (payment in advance). After receiving the payment, the goods will be packed and shipped.