---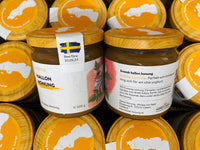 This sweet "svensk hallon honung" comes from Kalmar in Sweden. The tranquil town on the Baltic Sea is about halfway from Malmö to Stockholm. The bees are there in the middle of the most beautiful nature and are attracted by the nectar of many wild raspberry bushes in early summer. This honey is a perfect breakfast spread with a creamy consistency and a great gift for any Scandinavian fan. In Sweden itself, this honey is enjoyed together with berries in muesli and yoghurt.
500 g raspberry blossom honey in a glass á 11.90 EUR; Basic price 1 kg = 23.80 EUR
This honey has a label in Swedish. This honey is only marketable (i.e. approved for sale) in Austria through additional German-language labels that we have to attach to every honey jar.
Manufacturer: Hanse Honig, Lübeck
Free pick-up in the pick-up shop on selected days, please note the opening hours . Address: Welthonig im Rabenhof, Hainburger Straße 68-70/45/1, 1030 Vienna
Customers have the choice between GLS, DPD and postal delivery. See shipping rates for details.
Local delivery in Vienna on the same day for orders with online payment from Monday to Friday by 4 p.m. and Saturday by 12 p.m. Carried out by Veloce Messenger Services GmbH. Later orders will be delivered the next day as soon as possible.
Secure online payment with SSL encryption: PayPal, Mastercard, Visa, American Express and eps transfer.
Offline payment without a card with traditional transfer to the company bank account (payment in advance). After receiving the payment, the goods will be packed and shipped.