---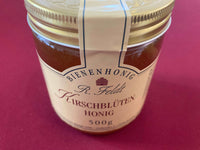 The colorful cherry blossoms are a real experience in many parts of the world, not just in Japan. Germany is also a large supplier of cherries in different varieties and qualities. The cherry trees bloom very early in the year and rely on the pollination work of bees. Beekeepers are regularly called in to pollinate trees, especially in the Black Forest. At the same time as the cherry blossoms, yellow dandelions also bloom in large quantities around the trees. For this reason, there is always a small portion of dandelion nectar in cherry blossom honey, as you cannot tell honey bees to avoid the flowers. Like all blossom honey, cherry blossom can be described as sweet and it develops a creamy, soft consistency within a relatively short time after bottling. This makes this honey the perfect breakfast honey for the whole family.
500 g at EUR 13.90; Basic price 1 kg = EUR 27.80
Manufacturer: Beekeeping & Bee Products Rüdiger Feldt, Germany
Free pick-up in the pick-up shop on selected days, please note the opening hours . Address: Welthonig im Rabenhof, Hainburger Straße 68-70/45/1, 1030 Vienna
Customers have the choice between GLS, DPD and postal delivery. See shipping rates for details.
Local delivery in Vienna on the same day for orders with online payment from Monday to Friday by 4 p.m. and Saturday by 12 p.m. Carried out by Veloce Messenger Services GmbH. Later orders will be delivered the next day as soon as possible.
Secure online payment with SSL encryption: PayPal, Mastercard, Visa, American Express and eps transfer.
Offline payment without a card with traditional transfer to the company bank account (payment in advance). After receiving the payment, the goods will be packed and shipped.