---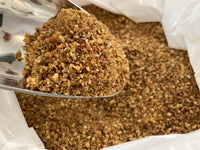 Styrian raw propolis as granules 10 g at EUR 4.59 (basic price for 100 g = EUR 45.90). If you need more, you can increase the quantity in your shopping cart. Propolis is used by bees as a protective substance against predators, among other things to close holes and cracks in the hive. The bees obtain propolis from resinous parts of buds and tree resin that comes out of the bark. The granules offered here are the starting material for manufacturing propolis-containing products. Among other things, the following products can be produced with it:
Propolis drops and tinctures (with and without alcohol)
Skin creams with propolis
Lip care with propolis
Some beekeepers use lumps of propolis to chew on instead of gum. You want to take advantage of effects that inhibit the growth of introduced bacteria and fungi in the beehive. If you are hypersensitive to propolis, please do not use it!
Manufacturer: Styrian State Association for Beekeeping as operator of the beekeeping school and the beekeeping center in Graz
Free pick-up in the pick-up shop on selected days, please note the opening hours . Address: Welthonig im Rabenhof, Hainburger Straße 68-70/45/1, 1030 Vienna
Customers have the choice between GLS, DPD and postal delivery. See shipping rates for details.
Local delivery in Vienna on the same day for orders with online payment from Monday to Friday by 4 p.m. and Saturday by 12 p.m. Carried out by Veloce Messenger Services GmbH. Later orders will be delivered the next day as soon as possible.
Secure online payment with SSL encryption: PayPal, Mastercard, Visa, American Express and eps transfer.
Offline payment without a card with traditional transfer to the company bank account (payment in advance). After receiving the payment, the goods will be packed and shipped.