---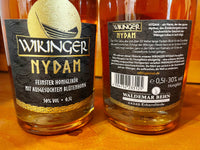 The Viking NYDAM honey liqueur is dedicated to the famous Nydam ship from Schleswig. It was an ocean-going warship for a crew of over 40 men that was sunk in Nydam's Sacrificial Bog. It lay well preserved in the moor for over 1,500 years before it was salvaged and restored in the 19th century. Today the ship is an exhibit in Gottorf Castle in Schlewsig (Germany).
Similar to the mead, the finest blossom honey was also used for the liqueur. This makes this honey liqueur tasty and sweet. 30% vol. alc.

0.50 l Viking NYDAM honey liqueur á 19.95 EUR (1 l = 39.90 EUR)
When ordering, you confirm that the orderer and recipient are over 18 years of age.
Free pick-up in the pick-up shop on selected days, please note the opening hours . Address: Welthonig im Rabenhof, Hainburger Straße 68-70/45/1, 1030 Vienna
Customers have the choice between GLS, DPD and postal delivery. See shipping rates for details.
Local delivery in Vienna on the same day for orders with online payment from Monday to Friday by 4 p.m. and Saturday by 12 p.m. Carried out by Veloce Messenger Services GmbH. Later orders will be delivered the next day as soon as possible.
Secure online payment with SSL encryption: PayPal, Mastercard, Visa, American Express and eps transfer.
Offline payment without a card with traditional transfer to the company bank account (payment in advance). After receiving the payment, the goods will be packed and shipped.